no comments
Categories:
What Business Owners Should Know About Preventing Slip and Fall Accidents
Most business owners are care about their customers and employees and would hate to see someone severely injured on their property. However, you may not be aware of the fact that if an individual slips and falls on the premises of their business, the owner could face a lawsuit. It is a business owner's responsibility to understand the basic rules that pertain to slip and fall accidents and how to prevent them. In this article, we will discuss measures that business owners can take to ensure that employees and visitors are safe and to avoid any unnecessary lawsuits.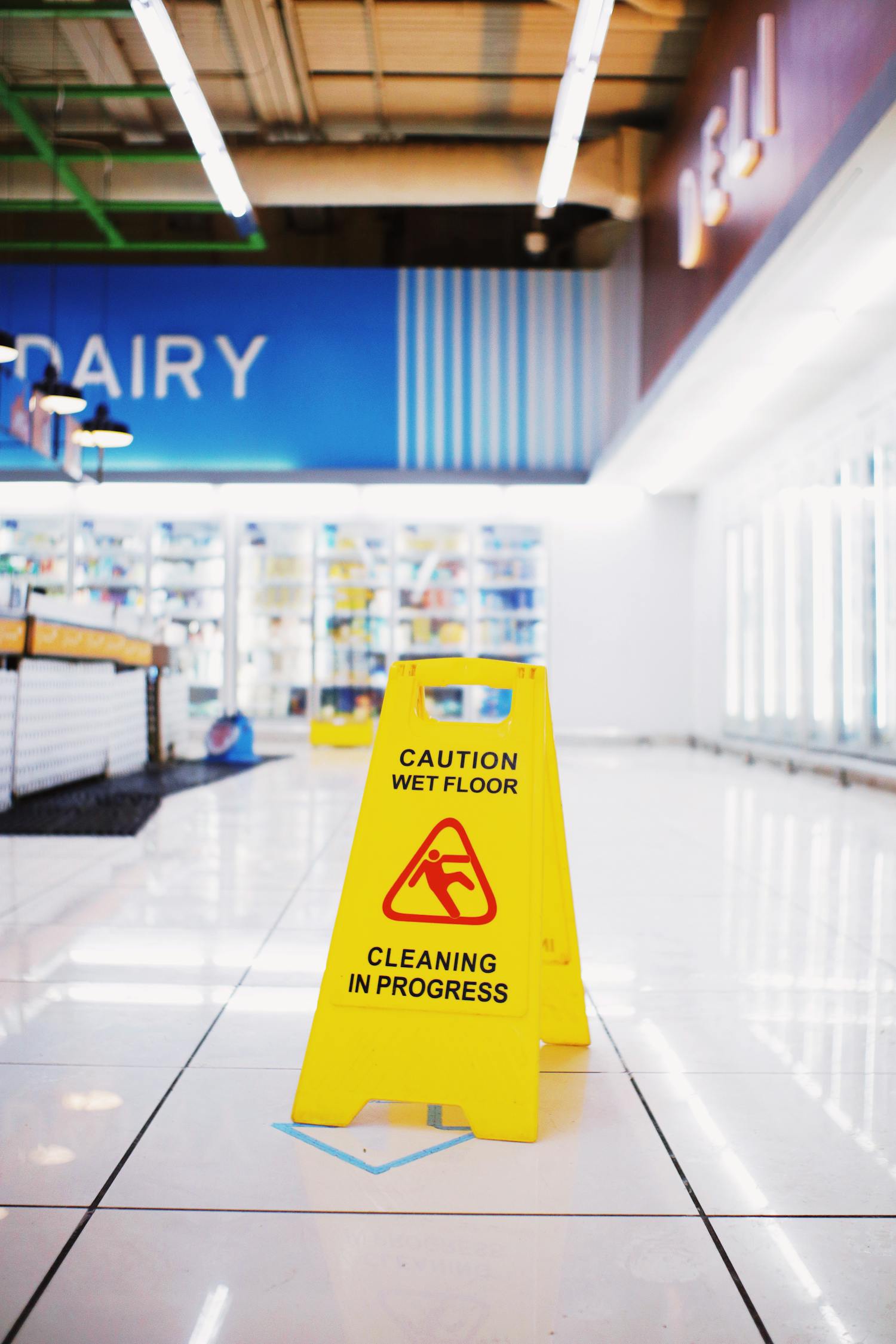 Premises Liability Cases
Slip and fall accidents are usually treated as personal injury cases. They include injuries that result from tripping over something, falling down, or getting hurt on the premises of the business. If found liable, the owner of the business may be responsible for the injury and will be obligated to pay for the medical bills and lost income of the individual who was hurt, as well as for the legal costs for defending their business.
A few conditions that could lead to slip and fall accidents inside of a business include poor lighting, torn carpets, wet floors, or narrow or unsafe staircases. Outdoor conditions that could lead to slip and fall injuries include broken sidewalks and uneven terrain that become even more dangerous with rain, snow, or ice. Determining who should be held responsible for a slip and fall injury requires careful investigation. The investigation would determine if the business owner acted irresponsibly and if their negligence led to an employee, customer, or visitor slipping and falling.
Basic Regulations for Slip and Fall Accidents at Places of Business
An individual who is injured will need to prove that his or her injury was due to dangerous conditions that the business owner was aware of. The owner is responsible for not putting visitors at unreasonable risk. The courts are aware that some injuries are caused because an individual is careless. For example, a person may fall while on the premises of a business because they were not paying attention. In this circumstance, they would not be due compensation for the injuries sustained. However, if the person was only partially at fault, the business owner may still be legally responsible for covering some of the costs associated with the injury.
An individual can show that a business or property owner was negligent in several ways, including:
The business owner created the condition. This would include wet or slippery floors, torn or worn out parts of carpeting, or other trip hazards.
The business owner noticed the condition and did not take corrective action. For example, a business owner could be held responsible for an injury if water was spilled on the floor and was not cleaned up within a reasonable time frame.
The business owner violated statutes. This may include business owners not complying with local building codes that require handrails and other safety components to be installed in specific areas, like bathrooms or staircases.
Determining the Responsible Party
It is common for multiple parties to be held responsible in slip and fall cases on commercial properties. For example, small business owners often rent a space on a larger property. This means that the small business owner, as well as the property owner, may be defendants in a slip and fall case. Additionally, a management company may be involved if a separate company was responsible for maintaining and managing the property. No matter if a person is the owner of the property, the owner of a business who rents the property, or if they are part of a management team, they all have the responsibility for making sure that employees, vendors, customers, and other visitors are kept safe. Even trespassers are protected under premises laws to a certain extent.
How Small Business Owners Can Effectively Handle Safety Issues
The number one priority of all business owners should be used to keep their visitors safe. They need to understand premises liability laws in order to prevent injuries. Small business owners will also benefit from liability insurance. It is helpful when worst-case scenarios arise and business owners face lawsuits. But even if a business owner purchases the best insurance out there and wins every case, their reputation may still be damaged. These practices will help business owners prevent injuries and claims:
Provide Proper Hand Railings and Non-Skid Pads on Stairs: Ensure there are safety railings in all necessary places. This includes stairways, balconies, and other elevated spaces. The railings should be strong and secure. If a railing gives way as someone is using it for balance, you can be held liable. You should also attach non-skid or abrasive pads to your stairs to help prevent slips. Slippery stairs paired with gravity can lead to serious injuries.
Secure All Rugs and Coverings to the Floor: Many accidents are caused by bunched-up or unsecured rugs. If a rug is not secured to the floor, it can roll up and catch someone's foot while they are walking over it. Use adhesive tape or rugs specifically designed to cling to the floor's surface.
Thoroughly Clean Up Spills and Other Messes: Stay on top of maintenance and cleaning. This is especially important in restaurants, coffee shops, and other commercial businesses where spills are a common occurrence. Learn how to properly remove grease from the floor, which can make hard surfaces dangerously slippery. Even water can increase the dangers of a slip and fall accident. Regardless of what is spilled on the floor, it should be cleaned up immediately. The longer the substance stays on the floor, the more likely it is to cause an accident.
Put Up "Wet Floor" Signs After Mopping and on Rainy Days: Alerting people of slippery surfaces is one of the most common ways to prevent slip and fall accidents. If it is a rainy or snowy day, people may track water into your business. If possible, we recommend laying down mats at entrances to soak up water from wet shoes. Putting up "caution" or "wet floor" signs may also limit your liability and could warn people of danger. These signs are essential if your employees or hired cleaning services are mopping or waxing the floors.
Ensure Proper Lighting in All Areas: Another common cause of accidents is inadequate lighting. It is easier to trip over objects if you cannot see them. While this generally is not an issue in the common areas of your business, make sure your storage areas and utility rooms are properly lit. The health and safety of your employees are just as important as the health and safety of your customers.
Remove All Tripping Hazards and Clutter from Walkways: Even in the most well-lit room, unfortunate tripping hazards and clutter can lead to nasty slips and falls. No matter what type of business you operate, you should make it a policy to keep all walkways clear. If you own a retail store, make sure your product displays leave ample room for customers to walk by and move around.
Ensure Employees Working in High-Slip Areas Wear Non-Skid Footwear: Some businesses are prone to slippery surfaces. As noted earlier, restaurants are constantly experiencing spills in the kitchen and dining area. You may want to require employees wear non-skid shoes to work to avoid unnecessary accidents.
Despite a business owners best efforts, sometimes accidents happen. If you were the victim of an accident on a business's property, contact Law Offices of Kirshner, Groff, and Diaz for a no-obligation consultation. You will be put in touch directly with a real attorney.